This Software is published on Download.cnet.com -- the first software download site in the world.
In this category, Easiersoft Free Barcode Generator has the most downloads:
Windows - Business Software - Inventory Software
KEY DETAILS OF FREE BARCODE GENERATOR:
Print bulk various types barcode labels with laser inkjet printer, add barcode to Excel, Word. Download Now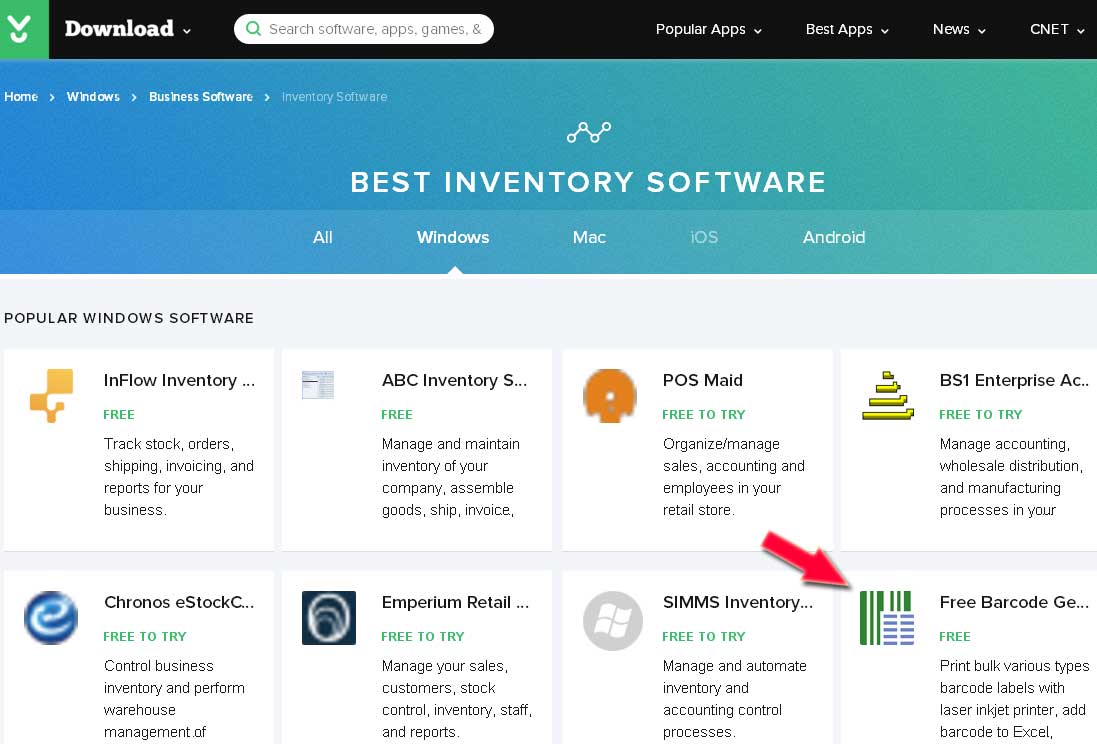 | | |
| --- | --- |
| KEY DETAILS: | >>> EasierSoft Free Barcode Generator is a wieldy and permanent free bar code manufacture and printing software. |
| | >>> It has a unique function: you can print barcode label on ordinary A4 paper with a laser or inkjet printer for office use, the effect will be better if the sticky label paper such as Avery label paper are applied, and it also support the professional barcode printer. Supports large batch of bar code labels' input and print. |
| | >>> It requires you to input the contents of the hundreds of thousands of labels at one time, instead of one by one, you can first enter the barcode data in Excel, or automatic generate a sequence of barcode numbers, then, bar code labels are printed with batches. |
| | >>> The 2nd unique function of Barcode Generator is that the complex barcode label can be manufactured with the cooperative work between Barcode Generator and MS Excel or Word. A lot of contents are contained in some bar code labels such as shipping label, including shipping address, supplier information, the company's LOGO, etc. |
| | >>> In the past, the professional bar code label design software are used to design and manufacture this kind of labels, but these software are expensive and complex. |
| | >>> Now, Barcode Generator provides you a free and simple solution - designing and manufacturing this kind of bar code labels with MS Excel or Word. Because most of the people are skillful at applying Excel or Word, so it is not necessary to learn those complex and professional bar code label design software. |
| | >>> Excel and Word are feasible, and its document format editing and printing function are very strong. The complex and exquisite label template can be manufactured with Excel or Word. With Barcode Generator, both expensive bar code printer and professional label design software are unnecessary. |
| | >>> Barcode Generator almost supports all 1D and 2D bar code formats, such as EAN-13, UPC,GS1, Code 39, Code 128, ISBN, Data Matrix and QR Code. |
| | |
| --- | --- |
| USER REVIEWS: | >>> Low cost bulk barcode labels printing software. |
| | >>> This barcode label printing software is suitable for print barcode labels in Avery label or other label paper, it is a matrix barcode labels printing program support all barcode printer and scanner, E.g to print barcode to Avery 5160 label paper, there 3*10 labels in one sheet, so in this barcode printing software, just need few steps: (1) Enter 30 barcode numbers in the data input field, or enter the barcode data in Excel and then import to this barcode program. (2) Specify the barcode type, barcode size, barcode font, etc. (3) Specify the paper as "Letter" which same as Avery label paper. (4) Set to print 3 X 10 labels. |
| | >>> This barcode software has multiple printing options, you can directly print to Avery label or other label paper, or insert the barcode images to Excel or Word then print, or export each barcode image to a file, then use them on document edition or image editing software and printing. |
| | >>> This barcode generator software can create all type of 1D or 2D barcode, including QR code and ISBN barcode for book. |
| | >>> On each barcode label, it can print one barcode and one text title, the barcode label can print as horizontal or vertical, it can print barcode labels to Avery label or common A4 paper use all type of printer, it support all types of barcode format, the printed barcode label can read by all barcode scanner / reader. If you want to print bulk of barcode labels with a serial sequence number, this barcode program can automatic create these barcode numbers. |
| | >>> It is suggest to use self-adhesive label paper to print barcode label, but it is also ok to print barcode on common office use Al, B5, etc. printing paper, the barcode labels can be pasted up to the products, or be pasted up to the printed form, invoice, purchase order etc. If your current using IT manage system do not support barcode printing, you can use this program to print some separate barcode labels, then paste up them to the printed forms, reports, so that your old system have the barcode function, this way can also reduce the amount of self-adhesive label paper and reduce the cost. |
| | >>> The printed barcode labels can be read by all type of barcode reader / scanner, the QR code can also be read by the mobile phone too, this is useful for factory or business manage. It is a low cost bulk barcode labels printing software. |
| | |
CNET Recommand Software:
<1> oCam - From Ohsoft.

>>> Computer screen, game, video recording is possible. Pause/resume of recording function. Recording using the built-in video codecs (AVI, GIF, MP4, MKV, NVIDIA NVENC H.264, M4V, FLAC, FLV, MOV, WMV, TS, VOB). Recording using the built-in audio codecs(MP3, AAC, FLAC) and real-time audio encoding. Have large video formats to support more than 4GB. Recording sound from your computer as you can. Audio recording is made possible without the stereo mix setting. A variety of sound quality when recording can be selected. Screen capture is possible. Image Format(JPEG, GIF, PNG, BMP) Recording area of the keyboard can be easily controlled. Can record the full screen and window area. During recording, the mouse cursor can be set to be included. Bug reporting is available to developers. Record the results can be stored in a specific folder, you have the option. oCam dual-monitor support. Flash in the IE browser, the target area can be selected. Preferences from the FPS setting is possible. Recording schedule function is available.

<2> SketchUp Make 2017 - From Trimble Navigation.

>>> Google SketchUp is a free, easy-to-learn 3D-modeling program with a few simple tools to let you create 3D models of houses, sheds, decks, home additions, woodworking projects, and even space ships. You can add details, textures, and glass to your models, and design with dimensional accuracy. You can place your finished models in Google Earth, share them with others by posting them to the 3D Warehouse, or print hard copies. Google SketchUp is a great way to discover if 3D modeling is right for you.

<3> Glary Utilities - From Glarysoft.

>>> Glary Utilities is a great system optimizer that provides a one-stop solution for PC performance optimization.
It offers windows registry cleaner, disk cleaner, memory optimizer, startup manager, tracks eraser, system control, file management, system restore, performance accelerator and many other amazing multifunctional tools.
With this helper, you can fix registry errors, wipe off clutters, free up disk space, optimize internet speed, safeguard confidential files, recover deleted files, check for software updates and optimize your system. Glary Utilities provides an automated, all-in-one PC care service, including thorough scan for issues like invalid registries, unnecessary startup items, temporary files, Internet history and spyware. Just one click can keep any PC problems away. Glary Utilities offers the safest and most efficient registry tool in the market to clean registry and fix registry errors. It cam free up more space by removing invalid registry entries and temporary files. Its process and startup manager lets you intuitively view the running processes. It can delete browser add-ons to accelerate Internet speed, analyze disk space usage and find out duplicate files. Furthermore, Glary Utilities allows users to uninstall software completely in batch. It also can check for the updates and keep you up with the latest programs. This new version has a more intuitive interface. There are more modules in this version, including windows registry, disk space, system tweaks, anti-malware, privacy, system control, system status, hard disks, drivers, file management and programs. Under each module, there are more detailed classification about the function. Users can choose the specific item to fix the problem easily instead of looking for the proper tool one by one. This new version includes more than 20 system utilities. Besides, this version can scan and analyze your PC issues even more thoroughly than before and more faster.

<4> HomeGuard - From Veridium Software.

>>> HomeGuard is an advanced parental control and activity monitoring tool for family and child safety online and offline. Once installed HomeGuard will silently and automatically block all pornographic and inappropriate content online and record detailed website activity including time of visit and time spent on each website.
Plus a built in keylogger, activity based screenshots, chat and e-mail monitoring and filtering, program/games blocking and time restrictions, Internet and computer usage time restrictions, e-mail notifications and more. HomeGuard is virtually impossible to tamper with, it cannot be bypassed using proxy servers and is unclosable and uninstallable unless the administrative password (provided during installation) is used.
COPYRIGHT (C) EasierSoft Ltd. 2005-2019
cs@easiersoft.com